Bring the glamour and profits to your hotel's outdoor dining area
It is well known in the hotel and pub industries that the more time your customers spend in your outdoor eating areas the more money they will spend.
Installing a shade structure or sail over your outdoor dining area to protect your customers is an obvious first step. What is not so obvious is the style you should choose. Getting the style right is the key to your customers staying and the profits flowing.
State of the art shade & rain solution
There are literally hundreds of shade structure options in Australia but not so many that are award winning, durable, architecturally stunning, and give the feeling of a luxury resort for a fraction of the cost.
Resort style shade at a fraction of the cost of conventional roofing
Conical PVC shade sails have been installed in resorts around the world and are now extremely popular in Newcastle and Sydney pubs, clubs and cafe alfresco dining areas.
PVC shade sales are made from a heavy duty PVC membrane that is fully warranted for a life of 20 years. Conical shade sails are mounted on heavy duty steel poles and are wind, sun and rain resistant making them easy and cost effective to install.
The pure white heavy duty PVC is fantastic at creating a light filled space during the day and will reflect ambient light at night for an instant luxury feel.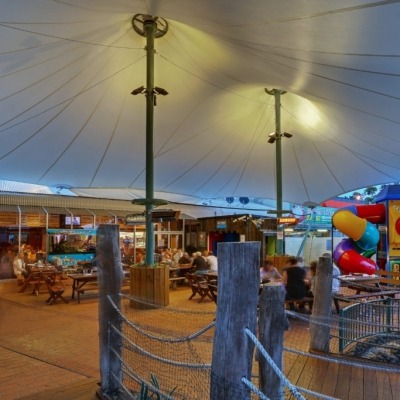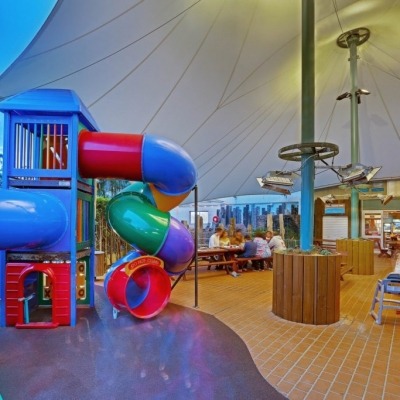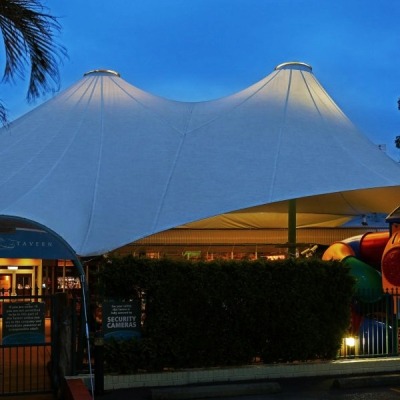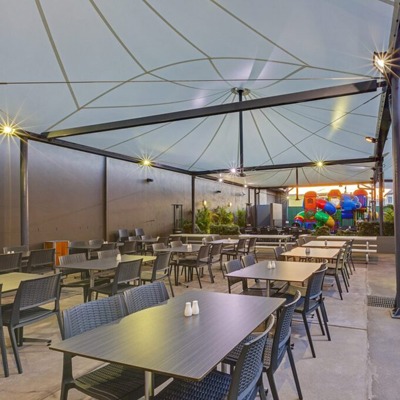 Glamour shade investment to maximise profits
It all comes back to the customer … The better their dining experience the longer they will stay and the more they will spend. Glamorous 'resort style' shade sails are a cut above the rest both in appearance, weather protection and obviously they provide the glamour factor that other commercial shade style and roofing solutions lack.
Create an eye catching talking point at your pub or club
Your customers will respond to the luxury vibe and hopefully will not only stay longer but describe the resort style setting to their friends.
Architectural Shade Structures are not just for Resorts
Once the exclusive province of International resorts, the price for these conical shade sales has dropped dramatically so that pubs, clubs and a wide range of  Australian resorts are now jumping on board.
The photos say it all!!
Shade to Order are multi award winning designers and manufacturers of high tensile shade structures. Based in Newcastle you will have seen our structures everywhere; from the airport to Belmont 16″, to most of Australia and overseas.
Give us a call if you would like more information. Phone  (+61) 2 4942 5793