Anybody standing under our shade structures will enjoy 15-20-degree cooler temperatures – all because of our heat reflective shade enhancing materials. At Shade to Order, we only use the highest quality tension membrane PVC material, which can block out harmful UV rays and are designed and engineered for your particular wind terrain category.
Besides creating an eye-catching addition to your home or business our PVC materials are also flame-resistant, waterproof and can be manufactured in a variety of beautiful colors.
Shade Sails are not Shade Structures
Membrane structures are a highly specialized form of building. When you think of shade sails you may think of the cloth stitched shade variety. Cloth shade sails are not considered a true tension membrane structure and definitely do not have the 20+ years long life properties and stunning resort style looks of a Shade to Order PVC tensile membrane shade structure.
Designing and Engineering for Cool Results World-wide
The latest software and innovative techniques by our design team will ensure you get the coolest looking shade in the business. Our design and engineering team have a combined industry experience of over 60 years and have designed shade structures for resorts and educational facilities around the world. We can help you visualize a shade structure that is truly world class and makes your business stand out from the competition.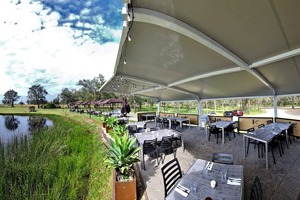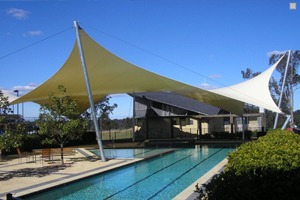 Australian Designed and Manufactured Shade
Shade to Order are 100% Australian owned and operated, employing Australian staff in Newcastle NSW. Wherever possible we use all Australian materials and products throughout our structures. This means profits stay in this wonderful country of ours!
Highest Quality and Compete Satisfaction
Ensuring the highest quality and complete customer satisfaction is our priority. That's why we design and manufacture all components in our Newcastle NSW facility and offer world class workmanship, 20 year warranty and a guarantee of compliance for installation of shade structures to ensure maximum lifespan.
And, keep in mind that you'll enjoy an architecturally designed structure that will add value to your home or business for decades into the future.
Shade structures may also be the answer for your schools, protecting children from the harsh sun. Read more here.
Give Shade to Order a call on 02 4942 5793 to learn more about which shade structure option is right for you! Shade to Order have an office and manufacturing facility in Newcastle NSW and are here for all of your shade sail needs.
Shade to Order are multi award winning designers and manufacturers of high tensile shade structures. Based in Newcastle you have seen their structures everywhere.