Look after your customers with a Resort Style Café Umbrella
Shade cover is often not the first thing you think of when dining in a dine at a café, restaurant, or even a pub, but it sure does make a huge difference to your enjoyment.
In fact, there's nothing worse than trying to enjoy a meal with your friends or family when all you can think about is how much you're sweating, how you can't see thanks to the glare, or how your skin is blistering under the sun.
If you are a business owner looking to make sure none of your valued customers experience this level of discomfort, Shade to Order has a perfect solution.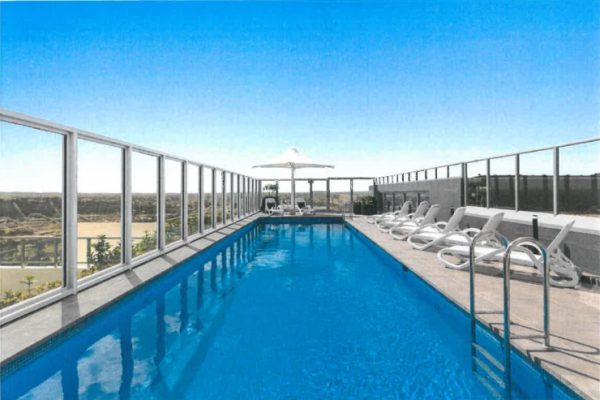 Shade structures with elegance and simplicity
Shade umbrellas add a look of elegance and simplicity to your business, while also protecting your patrons from the cruel Australian sun, heat, UV and other temperamental weather conditions.
Shade to Order's custom-made shade umbrellas are perfect for cafes, restaurants, resorts, sporting complexes, or any commercial building exposed to public spaces and wide prone environments. We have designed countless architectural shade sails and structures, manufacturing fully customised commercial grade high-quality aluminium framed, and steel framed Fixed Structural Umbrellas and Conic Structures.
Conical Shade Structures:
Space will always be a priceless commodity to any business, and therefore planning, designing, and manufacturing a permanent fixture that take up as little space as possible, while still being functional is ideal. Hence, we can identify how to most efficiently maximise the free space under a canopy with every umbrella adopting a conic fo rm. These uniquely designed structures are built to exactly suit your requirements and adapt effortlessly to your chosen environment.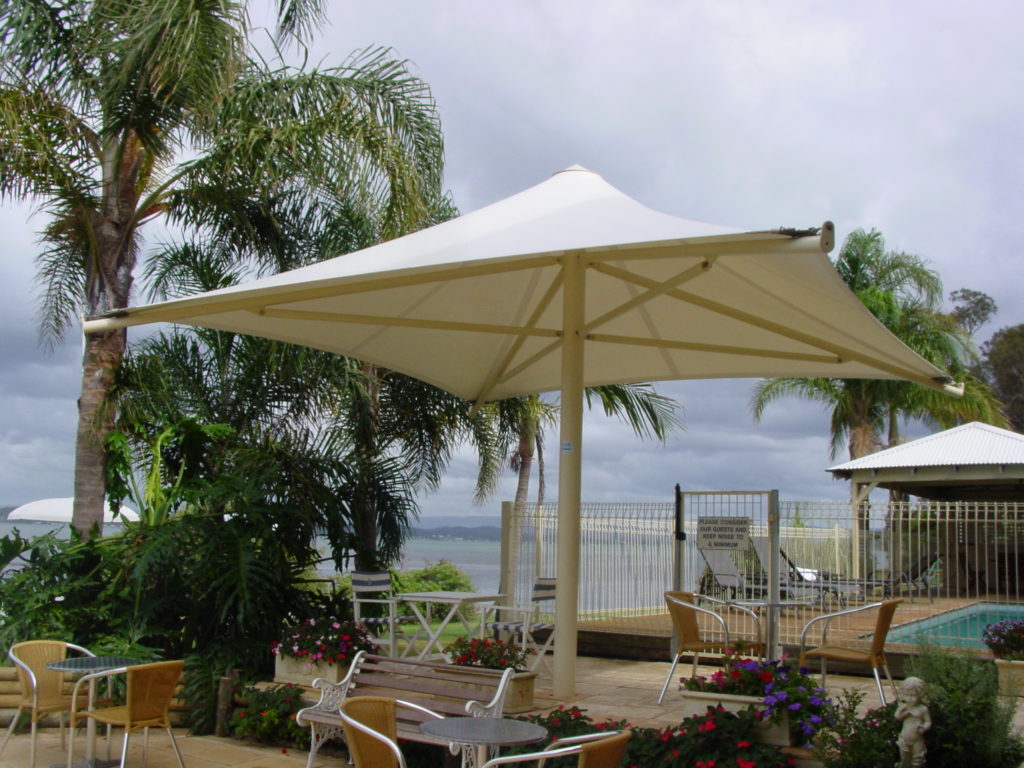 Cantilever Umbrellas
A cantilever design simply refers to "a rigid structural element that extends horizontally and is supported at only one end." This then allows for overhang without additional support. In terms of a shade umbrella this just means incorporated a cantilever arm with the main post mounted on one side of the canopy.
This slightly more technical design maximises available area beneath the canopy, allowing greater use of space for customers to dine in comfort, protected from the elements.
The often square, hexagonal and rectangular shapes of these shade umbrellas boasts low maintenance, are highly heat reflective, UV treated, with a fully welded membrane built to withstand high winds and rain.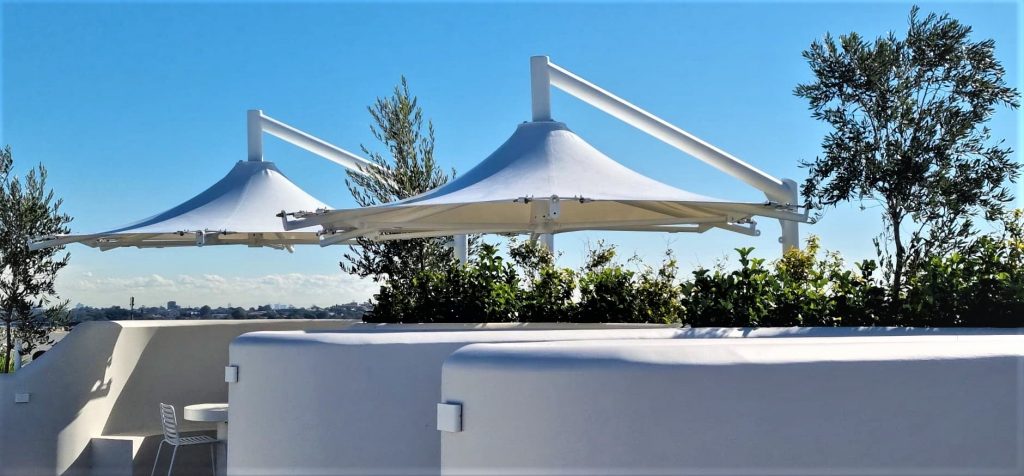 If you are looking to install a shade umbrella at your café or hospitality venue, contact Shade To Order. Shade to Order would love to hear from you. Please call with any enquiries you have, or use the contact form and we will be in touch!
The photos say it all!!
Shade to Order are multi award winning designers and manufacturers of high tensile shade structures. Based in Newcastle you have seen their structures everywhere; from the airport to Belmont 16″, most of Australia and overseas.
Give us a call if you would like more information. Phone  (+61) 2 4942 5793