Commercial Shade for Wineries and Breweries
Any good winery will host outdoor events such as tastings, functions, weddings, and more. Therefore, it is essential that your winery or brewhouse has the best shade possible to shield your patrons from the elements. At Shade to Order, we create bespoke designed and quality built shade structures that tick every checkbox of quality, durability, comfort, and resplendence. Our shade structures aim to enhance the overall aesthetics and experience of your grounds.
The sun benefits of Shade Structures
Extended exposure to the sun has been proven to have harmful side effects ranging from burns, heat-stroke, to cancers such as melanoma. According to the Australian Government website ARPANSA (Australian Radiation Protection and Nuclear Safety Agency), Australia has one of the highest rates of skin cancer in the world, with two out of three Australians developing some form of skin cancer during their lifetime. As awareness of this issue grows, it is vital to provide safe and effective shade to both your workers and customers.
Shade Structure for a Performance Space
A Shade to Order custom shade structure can create the perfect atmosphere for concerts and performances. Our products are not only used to shade attendees from the sun, but are often used can enhance the aesthetic of the amphitheater stage while providing important shade and weather for performers.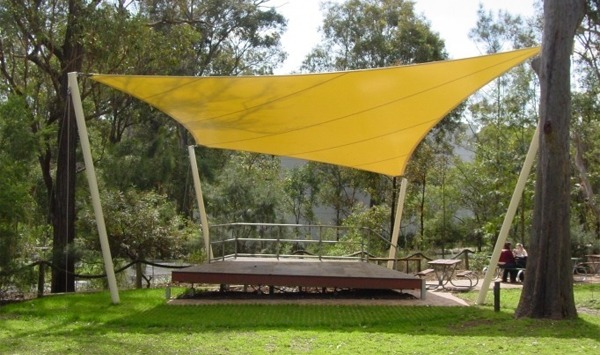 Protecting cars with Shade Structures
It is also a fantastic idea to provide shaded parking at your winery or brewery.
As well as protection against rain, wind, or hail, cars parked under shade are found to have an internal temperature 10 degrees or more cooler than one that has been parked in the sun.
At Shade to Order, we manufacture shade structures made from high quality, breathable shade fabrics, where air flows freely – much like the shade provided by trees – naturally lowering the ambient temperatures by anything up to 20 degrees.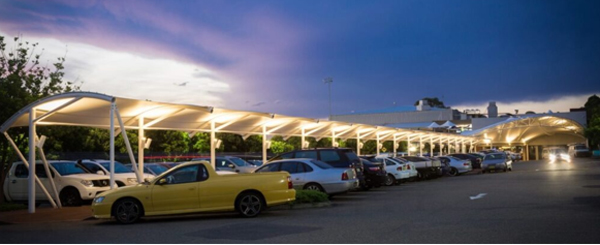 Unsatisfactory parking can easily lead to anxiety and annoyance from customers who are otherwise enjoying your winery. Consequently, bad parking may be bad for business.
To instead attract and retain customers – as well as catering for your employees – making your parking area safe, reliable, and visually pleasing is a must.
Guaranteed protection…
Shade to Order proudly specialise in Architectural grade specialised fabric for tension shade structures. These superior products can be made to be completely waterproof, stretch proof, load bearing, and UVR resistant.
To achieve this, we use PVC coated polyester fabric or Teflon Coated Glass fabric (ptfe). PVC material can be chosen with high translucency levels or complete block out.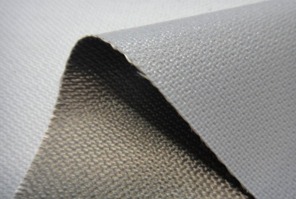 Find out more…
Shade to Order are multi award winning designers and manufacturers of high tensile shade structures. Based in Newcastle you have seen their structures everywhere; from the airport to Belmont 16″, most of Australia and overseas.
Give us a call if you would like more information. Phone  (+61) 2 4942 5793