To create an inviting, comfortable, and functional extension of your home, here are four key considerations when planning to install a tensile shade structure or sail.
An outdoor space for recreation and relaxation is a common necessity for many houses in Australia. Often, the outdoor spaces are just as important as an indoor living area which is why at Shade To Order, we believe they should be fitted with effective shade, designed with quality, elegance, and sophistication.
To create an inviting, comfortable, and functional extension of your home, here are four key considerations when planning to install a tensile shade structure or sail.
Size and shape of your shade structure
The size and shape of a shade structure totally depends on the function and activities you are planning to host there.
The average outdoor dining space can host at a minimum 6-8 people. For this typical space, the minimum dimensions are around 4.5 to 6.0 metres long by 3.0 to 3.5 metres wide. At Shade to Order, we custom design our architectural structures to perfectly fit and complement your space.
If however you are looking to install shade over a larger, commercial space you will need to take into consideration the shape and structural design of the design.
One fantastic option is a barrel vault structure.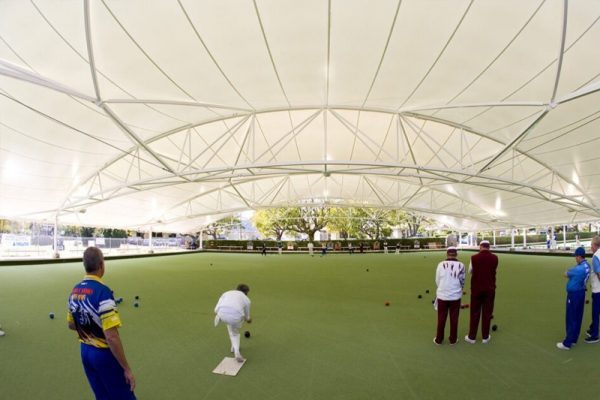 The most notable advantage about Barrel Vaults is their capability to be seemingly limitless in size. Thanks to this, you can take advantage of their size capabilities for large scale projects while also being extremely cost efficient. For such a large structure the cost is relatively low compared to traditional roofing structures.
Shade to Order has made them from 40m2 right up to the internationally award-winning structures at Raymond Terrace Bowling Club covering 4000m2 (left) and Newcastle Airport covered walkway 1000m2. (right)
2. Environmental factors and privacy with shade structures
The primary function of a shade structure is to shield an area form the sun, protecting yourself and loved ones from heat and harmful UVR (ultra-violet radiation). However, this should not be the only consideration when designing your shade, as an effective structure will guard against all the elements including rain, hail, wind, and snow.
If you have close neighbours, a shade structure is also an elegant solution to gain some more privacy by blocking views into your home or backyard.
3. Materials and finishes for shade structures
Shade to Order proudly specialise in Architectural grade specialised fabric for tension shade structures.
These superior products designed with the structural loads in mind for tension shade structures. These fabrics can be fully waterproof or a pvc mesh fabric. Architectural fabrics are not stitched but high frequency welded in the case of pvc and pressure sealed in the case of teflon coated glass fabric (ptfe). This results in the seam being as strong as the fabric surface and in the case of waterproof fabric no leakage through the seam.
4. Presentation
Professionally designed shade structures and sails bring that touch of sophistication and comfort to your commercial or residential property. At Shade To Order, we are all about crafting bespoke and solidly built shade structures that tick every checkbox of quality, durability, comfort, and resplendence.
Why not make your outdoor area even more luxurious with the addition of an aesthetically pleasing and eye-catching shade design?
Give us a call if you would like more information. Phone  (+61) 2 4942 5793