Why a Barrel Vault Structure may be the Answer for your business…
A "Barrel Vault" is a striking shade structure that employs an arched shape, formed by rolled structural steel with tensile fabric tensioned out over the top and between rolled rafters. Barrel vault structures are extremely versatile thanks to their curved nature and can attach to and overlap most buildings. For commercial and even luxury residential projects they can additionally be fitted with heaters, lights and even drop-down blinds to enclose the area totally.
The main advantage of Barrel Vault Shade – Size
The most notable thing about Barrel Vaults is their capability to be seemingly limitless in size. Thanks to this, it is a fantastic idea to take advantage of their size capabilities for large scale projects while also being extremely cost efficient. For such a large structure the cost is relatively low compared to traditional roofing structures.
Shade to Order has made them from a modest 40m2 right up to the internationally award-winning structures at Raymond Terrace Bowling Club covering 40m2 (left) and Newcastle Airport covered walkway 10m2. (right)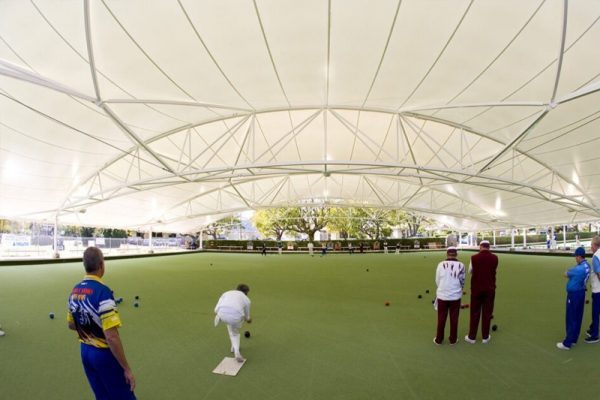 Site Measurement – why accuracy is so important with a Barrel Vault Shade Structure
As barrel vault shad structures are able to span such a large area, it is extremely important that everything is measured with absolute accuracy. A small measurement err of just a few millimeters could mean throwing off the safety and functionality of the whole design, wasting money and valuable time.
At Shade to Order accuracy and attention to detail have always been our strong point. We believe that most tension membrane shade structure problems are the result of sloppy measurement of the site, proposed attachments and the support structural steel. Measurements should be taken with Total Station surveying equipment by the fabricator or if they are unable to do this then by a professional surveyor. These measurements are then transferred to a CAD program and finally into a specific fabric structure computer program able to complete an analysis of the whole structure. At Shade to Order, we own and operate Total Station professional surveying equipment and specialist computer CAD design and manufacture programs for tension membrane shade structures.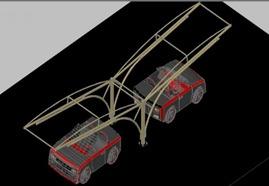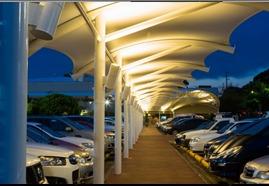 Longevity – 25-year warranty
Barrel Vault Shade Structures and all Shade to Order designs are an investment that will repay you with years and years of trouble-free service. Fully warranted for up to 20 years with a design life of over 25 years, they are built to last.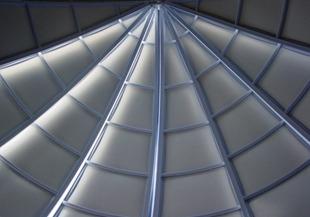 Our shade structures are manufactured from PVC coated polyester fabric or Teflon Coated Glass fabric (PTFE). We guarantee to all our clients, both commercial and residential, a safe and reliable tension membrane shade structure that is structurally sound.
We are available to offer expert advice and design input to ensure that you are given a quality tension membrane shade structure. Contact us today to discuss our structural and form finding analysis service. Shade to Order can manufacture shade sails out of a wide range of PVC coated fabrics. Ranging from 300gsm (grams per square metre) right up to the heaviest architectural fabrics at around 1800gsm.
Multi Award Winning Shade Structures
Shade to Order are multi award winning designers and manufacturers of high tensile shade structures. Based in Newcastle you have seen their structures everywhere; from the airport to Belmont 16″, most of Australia and overseas.
Give us a call if you would like more information. Phone  (+61) 2 4942 5793